Last Monday
I listed the infielders on my fantasy team in an attempt to better understand the exact degree of suck my team has reached. While we have not completed our analysis, the early indications are it sucks more than Courtney Love, who at least admits
why she works so hard
. My team must adopt a similar work ethic if it has any hope of finishing in the running.
This post we will look at the outfielders and utility men on my team. The outfield, at least, is a bright spot. My hopes are pinned on them to revive the fortunes of the Sleestak.
Josh Hamilton:
I was on board for his redemptive season in 2008 and was so won over by the overcoming of adversity story run out there by every journalist with a little Rick Reilly (or a lot of Jesus Christ) in them, that I made him a two-year keeper. This means I was on board for last season, when he fell off the wagon (albeit briefly), got injured and contributed next to nothing to my team. In case you missed it, in January of 2009 Josh Hamilton, married, Christian and formerly and quite publicly drug addicted, met some girls in an Arizona bar who just out to have some fun that night. They said hello to this young Christian soldier and in no time at all, shots were consumed, nipples exposed and the whipping cream came out. Sadly, I am not describing what happened to the girls. See the photo below:
How come I get the whipping cream and they get their eyes blacked out?
Hamilton made an apology to his wife, his fans and his team for the incident. However, he never has apologized for the .268/.741/10 HR/54 RBI season he hung on his fantasy owners in the summer that followed him getting triple-creamed. And let's just thank the collective Internet for having the decency to obscure the identities of these three innocent young country girls overcome by the charms of this raffish big leaguer.
This season, Hamilton looks like he is on his way back...to sobriety. He is driving the ball (seven homers in 36 games versus ten in 89 games last year) and has talented bats all around him. Josh will deliver 3rd or 4th round value this season and most importantly when whipping cream is spread on his chest it is always done so in the shape of the cross.
Matt Kemp:
Now Matt Kemp knows how to spend his off-season and who to spend it with. Instead of getting worked all across the Internet by three nameless (and eyeless) princesses of the desert, Kemp made news by shacking up with and
getting engaged to Rihanna
. Sure, there are countless sites with the picture him sinking all ten fingers into her hams, but this is clearly a classy situation and one at which no blogger would look askance. For this newly engaged couple is truly, madly, deeply in love. Or, as
Bossip
puts it, "Matt must be knocking the Goat Curry out of her hips." Matt has also been knocking the Goat Curry out of National League pitching, and (he said licking his fingers) that shit tastes good. I may just need to change my team name to Goat Curry.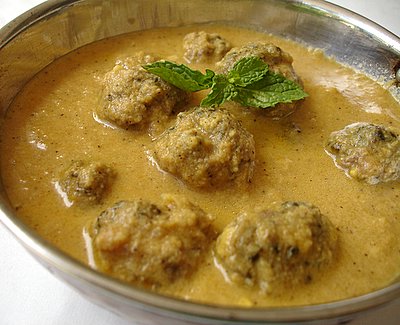 Rihanna's second favorite Goat Curry recipe.
This also demonstrates the cultural divide between Los Angeles and Tempe, where the photo of Josh Hamilton was taken. In Tempe, the sexual cuisine is clicheed. Whipping cream? Come on. What was next, the Josher sticking his dick in a tub of chocolate syrup while the three harpies fought to prove who had the biggest sweet tooth? My money is on the blonde. In Los Angeles, they have more refined tastes. While Kemp is knocking her curry out, you can be sure Rihanna will be drawing vodka-marinated lychee nuts from his ass. Mmmmm. Haute Cuisine.
Nelson Cruz:
The guy who batted seventh for much of last season hit seven home runs in the first 11 games of the season, perhaps making his own modest argument for a more prominent spot in the lineup. Nelson Cruz is a man-beast and who doesn't love man-beasts? Lambs? OK, the lambs who are rent limb from limb by marauding man-beasts don't like them but, shit, lambs don't play fantasy baseball. By the way, is Ron Washington a lamb? He must hate Cruz because he has him batting in the sixth spot every chance he gets. I get that the Rangers' lineup is stacked but Cruz is the most talented bat they have. He should be hitting fifth at least. Of course, by hitting him down in the order, Washington gives Rangers bloggers a season's worth of articles, all asking why in God's name won't Washington hit Cruz higher in the order and can you just imagine what Cruz's numbers would be batting clean-up? And somewhere soon after these questions are asked, the coke jokes will come rolling out. I mean what other explanation could there be? If bloggers sitting in their bong-reeking basements know Cruz should be batting fifth, the only reason the well-paid Washington could have him hitting sixth is cocaine. Case closed. Christ, I should've been a prosecutor.
Carlos Gonzalez:
You may have noticed a pattern with my outfielders. All are power-speed guys. I am a sucker for the power speed combo and no position fields more guys who can knock 20 home runs and steal 20 bases in a season than outfield. CarGo, as Gonzalez is affectionately known on the message boards, is just the next edition of this Sleestak special. He, like Cruz and Kemp is a free swinger (4 BBs to 26 Ks this season), yet Gonzalez's stroke is so good he maintains a decent average (.328 thus far). He is in the first year of a three-year keeper contract and is the heir to Matt Kemp's throne. If he continues to develop as he has, he will be a first round talent within a few seasons. He was the best acquisition I made last year--he costs just a 27th round pick--and almost makes up for the fact that Chris Davis will be on my team next season.
Curtis Granderson:
Let me get this out there right now: I love Curtis Granderson the baseball player; I hate him on my fantasy team. He plays hard. He plays excellent defense. He runs the bases well. He has good power. He is one of the class acts of major league baseball. He also strikes out a ton and kills your batting average in his down years--like last season when he hit .251 in 630 at-bats. So, why did I select him in the fourth round of our draft? Because my brain froze after Sunny took Jose Reyes ahead of him. I was fully expecting to land Reyes and when he was gone, I had no contingency plan. Gentleman, if there is anything life or
Maniac Cop
has taught us, you must have a contingency plan. Now Granderson is sitting on my DL with a shredded groin and remains weeks away from coming back to my team and punishing its already craptastic batting average. Maniac Cop, on the other hand, sits unrented in your local video store and is just waiting for you.
Julio Borbon:
Surely you remember this guy. The darling of March message boards and the apple of every fantasy blogger's eye? You know, based on his .300 minor league average and the 19 bases he stole in 46 games after being called up last season. He was going to lead off for the mighty Rangers offense, show off his winged heels on the basepaths and score runs by the bushelful. What, you don't measure by the bushel? Well, as some old bastard once said--probably right he after said get off his lawn--you can't steal first. Borbon is hitting .230 on the season and this is actually good news considering how poorly he started the year. The bigger problem is that even on those occasions when his shadow does fall across the foul line at first base, he is content to let it stay there. One of the fastest men in baseball has just six stolen base attempts on the season. What can possibly be the reason for this insanity? Clearly, Ron Washington is chasing after the rails of the crazy train.
Utility
Travis Hafner:
They say Travis got his nickname "Pronk" by crossing "project" with "donkey." Why project? Because he was seen as one as a baseball player. Why donkey? Well, let's just say the desert princesses who waylayed the Josher sure wish Hafner had been there that night. For all those good chuckles, Hafner sucks. He's hitting .252 with 4 dongs and 10 RBI. Did I mention he's hitting clean-up? So, there you have it: hung like a donkey; hits like a donkey.
Juan Uribe:
Not to be confused with Ugueth Urbina, famous for torturing laborers with paint thinner and a machete on his ranch in Venezuela. Note to self: If ever you find yourself working as a ranch-hand in Venezuela, do not steal from the Urbinas. I mention this only because Mark O'Brien, known as Duff in She's a Keeper, confused the two at a recent Giants game we attended (more on that soon). Juan is nothing like the somewhat temperamental Uggie. He is your classic utility infielder (2B/SS/3B) with a penchant for the RBI. He currently leads the Giants with 23. Once Granderson is back, Uribe is likely to be my go-to guy off the bench for my infielders when one of them slumps. I'll never get good trade value for him as he has no name recognition, but it's all good. Uribe will remain an unsung asset on a crappy fantasy team. Urbina will remain in jail.
Aubrey Huff:
If "solid but unspectacular" had a picture under it's definition in the most unlikely dictionary ever printed, it might have one of Aubrey Huff there. Or
Rutherford B. Hayes
. Sadly, with my team's woeful offensive output, solid but unspectacular is just what the doctor ordered. I mean, sure, everyone loves spectacular. But what does spectacular get you in the end? Whipping Cream, girls and Goat Curry? Millions of dollars? The championship of the She's a Keeper fantasy league?
I feel sorry for me.